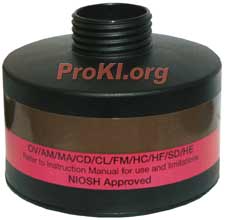 call for availability - (858) 488-3300
click here for dp filter
scott mpcplus filter
designed to protect against standard industrial gases
third party tested against chem warfare gases
excellent protection against sarin (and its surrogate dmmp)
nylon body offers valuable permeation resistance to mustard gas
particulate filter is over 99.99% efficient against all particulates and is appropriate for protection against biological aerosols
shipped in sealed clear bag with a 5 year shelf life
the mpc+ has been tested and approved by for use against industrial gases such as organic vapors, ammonia, chlorine, hydrogen chloride, methylamine. it also protects against all known chemical and biological warfare agents and has as an exceptionally high particle-filtration capacity and efficiency as well as a low breathing resistance.
can be used with any 40mm nato style masks. nbc/cba/rca approved.