:: evolution escape hood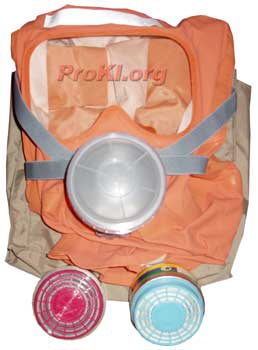 evolution
evolution nbc/fire escape hood
the gas mask has evolved! easy to use, one size fits all. high visibility
bright orange fire retardant and nbc resistant fabric. unlike other escape
hoods, the evolution is reusable & extremely compact.

2 foil sealed filters are included, 1 for nbc (nuclear, biological and chemical) protection & 1 filter for protection against smoke / fire gases.

in the event of an emergency simply connect the filter, pull the hood
down over your head and tighten the straps, that's it!

the evolution nbc/fire escape hood comes packaged in a sealed
waterproof foil pouch which also blocks out light, oxygen, dust and other
contaminates. this foil pouch keeps your evolution escape hood in
perfect condition and ready for use in an emergency.

each evolution nbc/fire escape hood includes:
1- foil sealed nbc/fire/smoke escape hood
1- foil sealed nbc filter
1 - foil sealed fire/smoke filter
1 - nylon carry bag with velcro closure & inside pockets

call for availability - 858-488-3300
---
evolution 1000 hood filters
- designed for the evolution 1000 escape hood
- fire gas vapors and smoke filter
- nbc chemical weapons rated filter
- rated for full nuclear biological and chemical protection
call for availability - 858-488-3300

part time jobs from home for teachersCost savings: Working from home can also help you save money on commuting, eating out, and other expenses associated with working in an office.part time job 30 hours a week
| | | |
| --- | --- | --- |
| 1.remove hood from packaging | 2.choose fire or nbc filter and insert | 3.put on with filter facing forward |
| | | |
| --- | --- | --- |
| 4. tighten elastic straps | 5. test fit and seal by blocking airflow | 6. breathe normally and escape |
the evolution 1000 escape mask - the #1 choice for protection from both fire/smoke & nbc warfare agents.
unlike other escape hoods, the evolution 1000 is escape hood is made of nbc resistant & fire retardant fabric. the extra-wide, bonded, flexible pvc lens provides an unsurpassed range of vision & an extremely high level of protection against smoke, biological, chemical & other contaminates. the extra-wide lens allows for excellent visibility & easy face recognition by others during any emergency.
high visibility
: made of high visibility bright orange material, to enable rescue personnel to locate you quickly in any emergency. in addition, the mask features a highly reflective band on the face designed to reflect light (from search lights or flash lights) in low visibility situations.
excellent fit & protection
: the hood fits nearly all adults & extends to the mid-chest, protecting your head, neck & covers any gaps found around the collar of your protective suit. the hood incorporates a snug but comfortable elastic seal around the neck area to prevent gasses from seeping upwards into the mask. the evolution 1000 utilizes a 4 point strap system around the head that can be tightened easily to ensure a snug fit around your nose & mouth by simply pulling on the 2 tightening straps on the back of the mask. in addition, there is a quick release clip for easy removal of the mask without having to loosen straps, etc.
premium filtration
: includes 2 filters: 1 - nbc filter provides excellent protection against chemical agents, nuclear particulates & biological agents. also included, 1 - fire / smoke filter which is specially designed to provide enhanced protection against smoke & gasses created by combustion. this highly specialized fire filter provides far greater protection against smoke & fire than conventional escape hoods or nbc gas masks.
fully reusable
: unlike other one-time use escape hoods & one-time use powered respirators, this mask may be reused (unless damaged) & is the ideal solution to false alarms, where any one time use mask is rendered non-functional. the only component that must be replaced is the filters (just like all other masks). unlike other emergency escape gas masks, the filters on the evolution 1000 are replaceable. although the mask comes with 2 filters & one for smoke/fire & one for nbc warfare agents, we recommend having at least 2 spare filters in the event of an emergency. always keep your filters sealed in their original foil protective packaging until needed. (see our care instructions)
no training
: the evolution 1000 is an emergency escape gas mask designed to be easy to use, and unlike many other masks, does not require professional training. follow the simple instructions for use
, then escape the contaminated area as quickly as possible. this gas mask is designed to fit nearly all adults & will also fit children (of average size) as young as 10 years old.