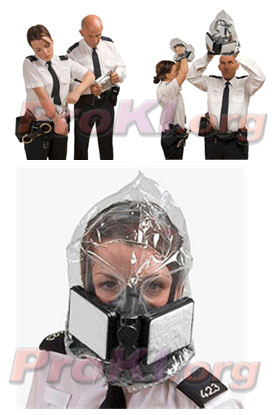 One of the most revolutionary products in the Avon Protection Systems range is the CE approved EH20 CBRN Emergency Hood. The hood: Provides CBRN respiratory, eye and face protection for up to 20 minutes.
Requires minimal training
Is stored in an impermeable foil bag inside a durable reinfoced pouch
Can be worn on a utility belt
Made of clear polyurethane to aid recognition.
Quick, easy donning in less than 30 seconds.
Protection against a range of CBRN airborne contaminants and splashes.
Provides 20 minutes of protection.
Highly elastic non-dermatitic neck seal for easy donning.
2 low profile filters for low breathing resistance and unrestricted vision.
P3 particulate filter for high filtration efficiency against dusts, aerosols and bio-hazards.
Silicone elastomer nose cup for maximum comfort.
One size fits all adults.
Usable with spectacles.
Foil vacuum packed for 10 year shelf life.
$179.00 ea. -Add to Cart